In 1960 a group of 15 men from Citrusdal decided to build a golf course at the common ground known locally as the "Koeikamp."
The men toiled hard and succeeded to build a 4 hole-course, but after a number of years, the struggle and manpower to keep in 4 hole-course in shape, deteriorated and the course fell away.
In 1975 another group got going at the "Koeikamp" area again and they were successful to build 9 holes. In the early 1980s, the club's committee was granted the opportunity to buy the "Koeikamp" land and today, the club is the proud owners of the golf course property.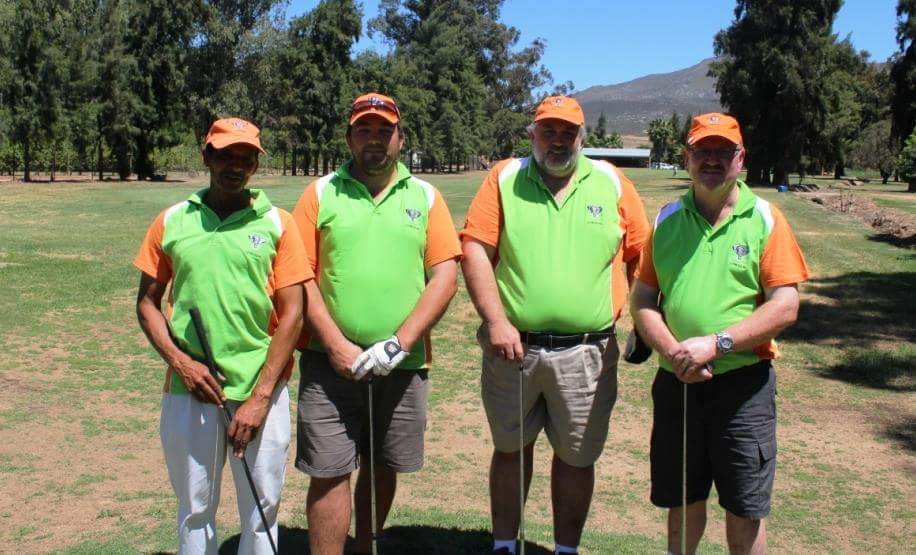 There are a number of popular golf events that are hosted by the Citrusdal Golf Club – including the following:
Citrusdal Open, Land Bank Tournament, Citrusdal Invitational, Seatrade Classic and Captain's Tournament
CITRUSDAL OPEN
The club is very proud of the fact that they have hosted the Citrusdal Open since 1986 and the tournament has become very popular through the years.
The first winner of the Citrusdal Open was Gavin Hunt, former soccer player for Hellenic and currently the soccer coach of Bidvest Wits.
Some of the well-known golfers that lifted the Citrusdal Open Trophy include Jean Hugo in 1993, Bertus Smit (4 times between 1992 and 1996) Gerlou Roux in 2001 and Christiaan Basson (2003 and 2004).
CITRUS INVITATIONAL 29 OCTOBER 2022
Everybody that is involved with the citrus industry gets an invitation to participate and attend this popular golf day.
This event has become a great opportunity for businesses in the citrus industry to advertise their products and to socialize with the farmers, suppliers and other role players.
To participate or attend the day, please contact Sakkie at 083 384 0903 sakkie@kempena.co.za
SEATRADE CLASSIC 1 OCTOBER 2022
This is our biggest tournament of the year and it is well-known for great prizes and excellent food. This is a social event enjoyed by everyone.
Contact Sakkie 083 384 0903 sakkie@kempena.co.za
We extend a warm welcome to visitors to play our course. You will enjoy it !!
We invite new members to join our club, please contact Sakkie van der Westhuizen 083 384 0903 sakkie@kempena.co.za or Johan Coetzee 022 921 2544 or 0796096963

Gedurende 1960 het 'n klompie Citrusdallers begin, om wat bekend was in daardie dae as die Koeikamp (elke inwoner was geregtig om twee koeie op daardie stuk grond aan te hou) gelyk te maak met die oog om 'n gholfbaan te vestig.
Die grond is geleë tussen die dorp en die rivier en was baie ongelyk en daar was redelik baie water-kuile.
Die 15 lede wat daardie tyd betrokke was, het baie gesukkel om die 4-putjiebaan – wat maar redelik rof was, aan die gang te hou en die klub het tot niet gegaan teen die einde van die sestigerjare.
Gedurende 1975 het 'n paar gewilliges weer met 'n poging begin op dieselfde Koeikamp. Die baan is later uitgebrei tot 9 putjies – op 'n baie beperkte stukkie grond. Altesame 10 lede was betrokke by hierdie projek en danksy hul iniasitief en harde werk het die gholfbaan tot stand gekom.
Gedurende die vroeë tagtigs was die bestuur bevoorreg om dieselfde Koeikamp (wat basies bestaan het uit twee gedeeltes grond geleë onder die 100 jaar vloedlyn) te kon koop en die grond word nou nog besit deur die klub.
Nuwe lede is altyd welkom. Kontak vir Sakkie van der Westhuizen 083 384 0903 sakkie@kempena.co.za
Die klub speel sedert die tagtigerjare in die Nelson-liga. (Die beker is deur 'n mnr. Nelson – gholf-klublid van Malmesbury, geskenk). Om die beker word daar tans meegeding deur twaalf klubs in die Boland (Citrusdal, De Hoek, Porterville, Ceres, Worcester, Wellington, Malmesbury, Moorreesburg, Langebaan, Vredenburg, Darling en Bergrivier).
.
Die groot gholfdae op die klub se jaarprogram is die
Citrusdal Ope, Land Bank, Citrus Invitational, Seatrade Classic en die Kapteinstoernooi.
CITRUSDAL OPE
Die klub is baie trots op sy ope-toernooi wat sedert 1986 aangebied word, en in die klubhuis hang geblokte foto's van all die wenners.
Die eerste Citrusdal Ope is gewen deur Gavin Hunt, die voormalige sokkerspeler van Hellenic en tans sokker-afrigter van Bidvest Wits.
Bekendes wat die Citrusdal Ope al gewen het sluit in: Jean Hugo in 1993, Bertus Smit (vier keer tussen 1992 en 1996) Gerlou Roux in 2001 asook Christiaan Basson (2003 en 2004).
CITRUS INVITATIONAL
Op hierdie dag nooi die klub almal wat betrokke is by die sitrus-industrie om te kom deelneem. Dis ook 'n goeie geleentheid vir besigheide om te adverteer en saam met almal te kuier – insluitende die boere, verskaffers en ander rolspelers in die sitrusbedryf.
Diegene wat nie genooi word nie, kan Sakkie van der Westhuizen kontak by 083 384 0903 sakkie@kempena.co.za
SEATRADE CLASSIC
"Dit is ons grootste toernooi van die jaar en almal wat wil kom speel is welkom. Baie goeie pryse, lekker kos en lekker kuier. Ons is bekend vir ons gasvryheid en lekker etes.
Kontak Sakkie van der Westhuizen 083 384 0903 sakkie@kempena.co.za
Ons nooi almal wat nog nie ons baan gespeel het nie, uit om by ons te kom kuier.
Ons verwelkom altyd besoekers wat by ons wil kom speel.
Kontak vir Johan Coetzee 022 921 2544 of 0796096963. (nuwe lede: Sakkie 083 384 0903 sakkie@kempena.co.za)